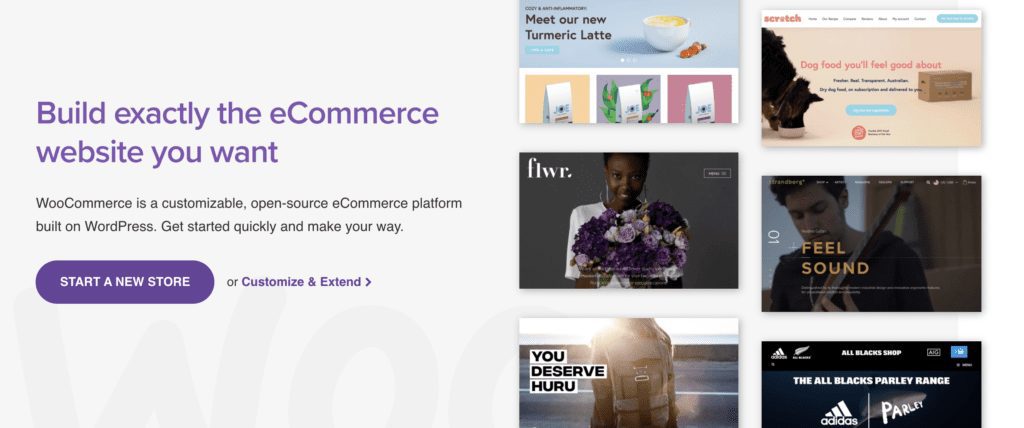 What is WooCommerce? This WooCommerce review will dive into pricing, features, security, and more. WordPress made it easy for anyone to create a website. It's free, it's easy to use, it's reliable, and it doesn't require a lot of technical knowledge. Even a seasonal person who's just getting into the digital world can do things like SEO and launch a WooCommerce store in a breeze.
To use the full scale of WordPress, you need to install Plugins, which in simple terms can refer to the services you use on your website. For example, if you want to use your website to sell products, then you have to install an eCommerce plugin such as WooCommerce.
In the eCommerce plugin category – there is nothing that can beat the popularity of WooCommerce for WordPress.
WooCommerce is a free, leading eCommerce platform that allows you to create stunning online stores, manage your inventory, control your payments, and do website automation. The plugin is successful enough to capture the staggering share of WordPress; that's why listed as the recommended plugin to use with a WordPress website.
But unlike Bigcommerce, Shopify, and other Competitors, WooCommerce is an open-source solution – meaning there are questions about its security, reliability, and future usage.
So, is it any good if you're just starting out or thinking of making a change? Let us give a detailed review of the WooCommerce plugin for WordPress.

What is WooCommerce?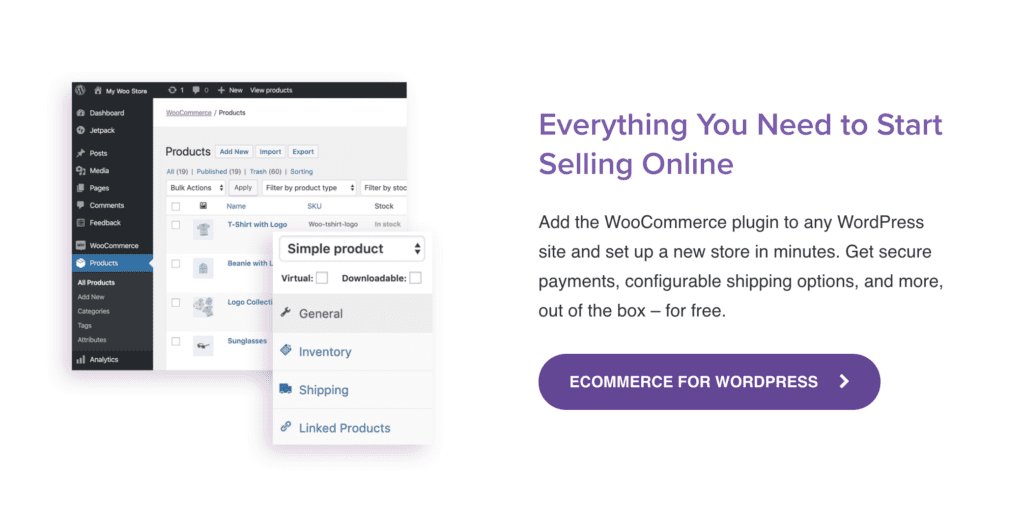 WooCommerce began its journey as an eCommerce platform back in 2011 and quickly gained a massive audience because of its ease of use and integration. As of 2021, there are almost 125 million websites that use WooCommerce, ultimately controlling 26% of the entire eCommerce market.
So, what is WooCommerce? WooCommerce is a free WordPress plugin that allows you to add eCommerce functionalities to your website. Thanks to its open-source nature, the plugin is highly customizable, scalable, and offers far more features than the rest of the competition.
For merchant sellers, WooCommerce allows easy integration to one of the World's leading marketplaces such as eBay, Etsy, and Amazon for easy management.
One of the reasons why it is so popular is that you have a lot of 'freedom' over how you manage things. Although it is far from the only eCommerce plugin out there, it gets the most user affection because of the following reasons:
WooCommerce is free – There are no base charges to install. Only the premium features will cost you the extra bucks.
WooCommerce is popular – Because of its popularity, you can find tons of support and tutorials to use it.
WooCommerce is easy to use – Just install the plugin, add your products, and your eCommerce store is ready.
Now that we've explained what WooCommerce is and why it is popular, here are some of the prominent features of WooCommerce.

WooCommerce Review – Detailed Features & more
Pricing – Cost of WooCommerce
WooCommerce pricing could not be more simple. As it is an open-source platform, the majority of the features are free to download and use.
WooCommerce doesn't regulate storage charges or have any transaction fees, but can certainly come at a price if you plan to use WooCommerce extensions.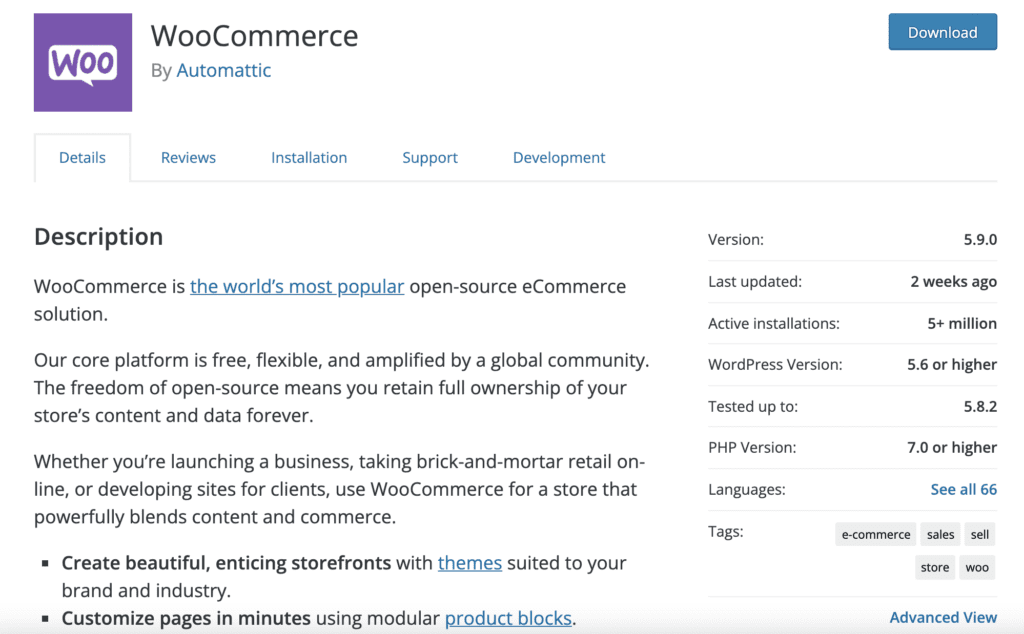 Ease of Use – How easy is it to use WooCommerce?
We'll divide the ease of usage part into two categories,
How easy is WooCommerce to install?
How easy is WooCommerce to manage?
The WooCommerce installation and setup process is simple. All you have to do for this is go to your WordPress dashboard Plugin section, search for the WooCommerce plugin, and install WooCommerce on your website.
Once the WooCommerce WordPress plugin is installed, follow the setup wizard to get things up and running. After you have run the setup wizard, you can go to the configuration settings and further adjust your WooCommerce payment gateway, shipping, and other logistical data for your eCommerce store.
In terms of management, WooCommerce requires you to install, manage, update, and optimize the app by yourself. If you play around with the settings, make sure you keep track of what you are changing and know how to change it back properly.
WooCommerce functionalities are provided in your WordPress dashboard panel. Although there are no page builders installed, as most other tools have, it is still very simple and allows you to change your website layout based on your WordPress theme settings. Many of these WordPress themes are designed specifically for use with WooCommerce. When choosing a WordPress theme, it is important to consider whether it will be compatible with WooCommerce.
Some WordPress themes are very basic and only provide basic features, while others are much more advanced and include features such as built-in payment processors and support for multiple languages. If you plan on selling products through your WordPress site, choosing a theme compatible with WooCommerce is essential.
Another benefit of being an open-source platform is that you can always hire a developer and make custom adjustments to your WooCommerce store. As a result, a large community of developers is working on WooCommerce. This community has created a variety of add-ons and themes that you can use to customize your WooCommerce store.
In addition, being an open source platform also means that WooCommerce is constantly evolving and improving. New features are being added all the time, and bugs are being fixed on a regular basis. As a result, WooCommerce is a very stable and reliable platform that you can use to run your online store.
Compatibility – Can you use custom themes on WooCommerce?
The recipe to a perfect online store lies in your theme, especially when it comes to WordPress. As it is an open-source platform, the theme and plugin should be compatible with one another.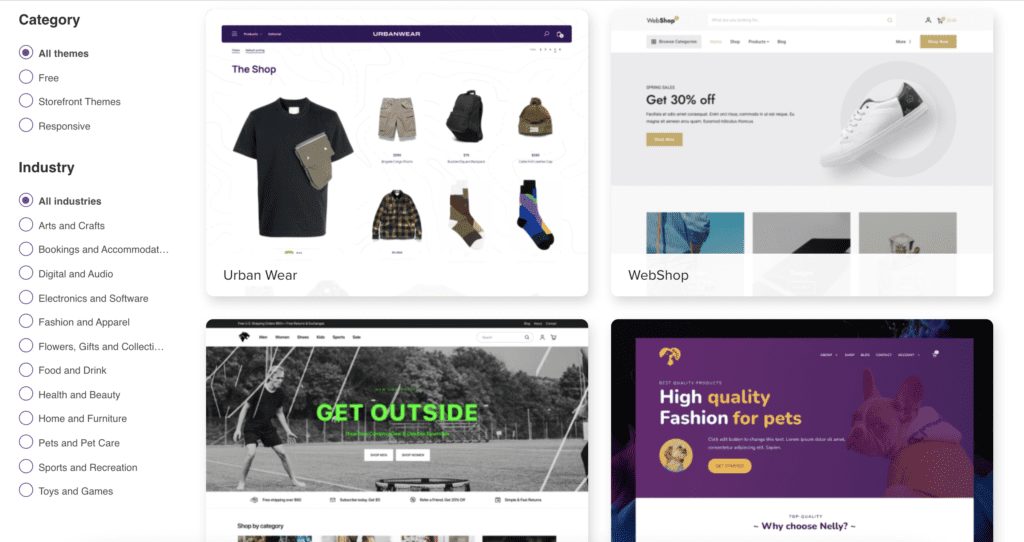 There are a wide variety of WooCommerce custom themes available, so it's easy to find one that matches your business's style and branding. Custom themes can be purchased from third-party vendors or developed by a WooCommerce-certified developer. If you're looking for a custom theme for your WooCommerce store, here are a few things to keep in mind.
First, make sure the theme is compatible with the latest version of WooCommerce. Second, check out the theme's reviews and ratings to get an idea of how others have liked it. Finally, decide whether you want a free or premium theme. Premium themes tend to offer more features and options than free themes, but they also come at a higher price tag. Ultimately, the right theme for your store will depend on your budget and needs.

Thankfully, most of the eCommerce themes available for WordPress are compatible with the WooCommerce plugin. You can easily check the compatibility option by visiting your theme developer's website.
If you haven't decided on your theme yet, you can easily pick an impressive theme from the WooCommerce store. The WooCommerce store is a marketplace that features both paid and free themes.
Plugins & Extensions – What does WooCommerce Integrate with?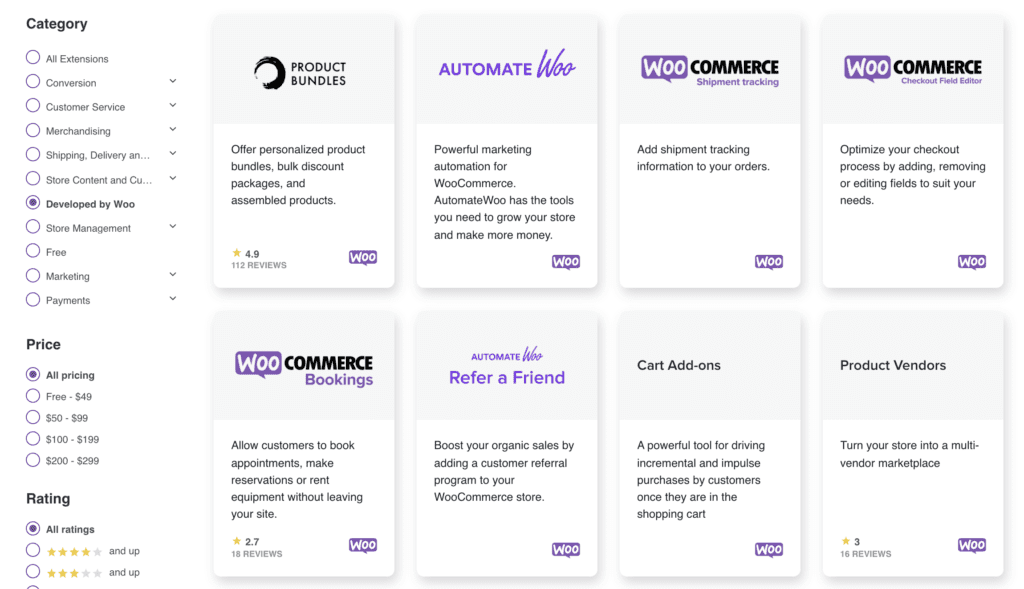 To improve the functionality of your eCommerce store, WordPress allows you to install plugins on your website. You can install more plugins that expand the functionality of the WooCommerce free plugin.
Currently, there are more than 500 free and paid plugins, divided into many categories like Email Marketing, Store Management, Theme Builder, etc. These plugins not only enhance the functionality of your website but also increase its appearance and performance.
Besides this, you can also install WooCommerce extensions, which are WooCommerce native paid features. For every extension, you can unlock more intricate features and capabilities for your online store.
WooCommerce also supports third-party integration, such as sites like eBay, Shopify, Amazon, and Etsy. These integrations not only bring more customers to your online store but also help to improve your business reputation in the long run.
With so many WooCommerce extensions available, it can be tricky to know which ones to choose. The good news is that there are a few basics that any eCommerce site should consider.
First, consider an extension that will help you manage shipping and delivery. This is essential for ensuring that orders are fulfilled on time, you are easily able to track and calculate shipping costs, and customers are happy with their purchases. Next, think about an extension that will help you process payments (ie. payment gateways). This is important for ensuring that transactions are secure and customers have plenty of payment options. Finally, consider an extension that will help you track inventory levels. This is crucial for keeping tabs on stock levels and ensuring that products are always available.
By considering these three key factors, you can begin narrowing down the field of potential extensions and choose the ones that are right for your business.

WooCommerce Shipping – How does WooCommerce control shipping?
The WooCommerce free plan allows you to create 3 shipping methods on your website. You can always install extensions or plugins to offer more variations. The current options are as such:
Flat Rate Shipping: Fixed shipping rates for all or individual products in your store.
Free Shipping: Specify a certain condition/requirement to fulfill for free shipping.
Local Pickup: This allows the customer to pick up the item from your physical store location.
With each shipping option, you'll get the chance to calculate your product estimation, destination, shipping, and other options.
If you choose to use WooCommerce extensions, advanced options such as shipping classes and online payments are available. Here are three of the best options if you're looking for a premium shipping extension that will give you the most bang for your buck: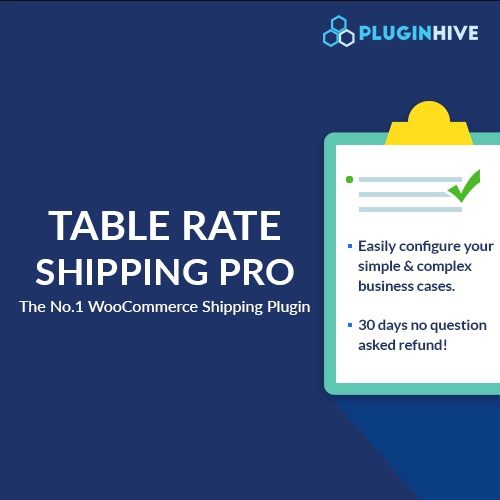 WooCommerce Shipping Pro is one of the most popular shipping extensions available. It offers a wide range of features, including the ability to print shipping labels directly from your WooCommerce dashboard, create custom shipping rules, and track your shipments in real-time. Shipping Pro also offers integration with a number of third-party services, making it easy to get started.

Flexible Shipping for WooCommerce provides all of the basics that you need to get started with WooCommerce shipping, including label printing and shipment tracking. However, what sets Flexible Shipping apart is its flexibility. With Flexible Shipping, you can create an unlimited number of shipping rules and methods, making it easy to tailor your shipping strategy to your specific needs.

Shipstation for WooCommerce provides everything you need to manage your WooCommerce shipping, from order processing and tracking to label printing and customer communications. Shipstation also integrates with a number of popular marketplaces and accounting platforms, making it easy to keep your business running smoothly.

WooCommerce Store Payments – What payment methods does WooCommerce support?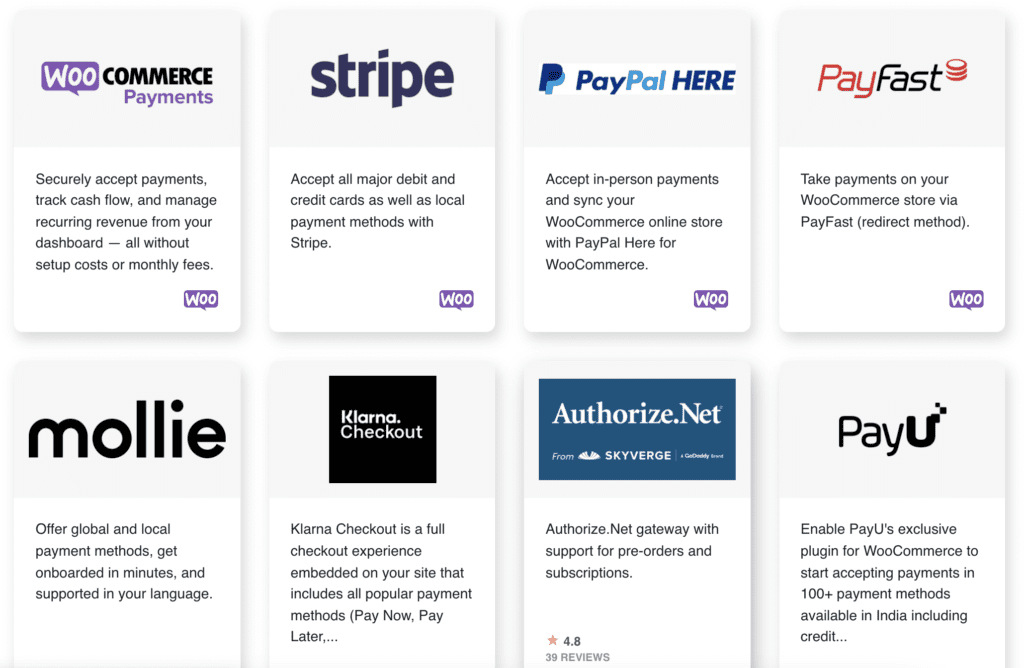 WooCommerce is one of the most popular eCommerce platforms and supports all kinds of payment options when it comes to online payments. Not only this, the platform has also built its own free payment solution and encourages you to use it.
When using WooCommerce, your customers are able to use most of the basic eCommerce payment gateway options such as credit or debit card, Amazon pay, stripe, and more. You can increase the conversion of your eCommerce store by introducing different payment options at the checkout.
However, if you don't want to use the WooCommerce payment option, you can always install payment processor extensions. These extensions add support for popular payment gateways like Stripe and Authorize.net, as well as offering additional features like recurring payments.
With so many payment extensions to choose from, it can be tough to know which one is right for your store.
There are many different factors to consider when choosing a payment gateway, and the best one for your store will depend on your specific needs. Here are a few things to keep in mind when choosing a Woocommerce payment gateway:
Ease of use: You'll want to choose a gateway that is easy to set up and use. The last thing you want is to spend hours trying to figure out how to use your gateway.

Fees: Payment gateway fees can vary, so it's important to compare the fees of different gateways before making a decision. You'll also want to consider whether the fees are flat rate or percentage-based.

Security: When it comes to online payments, security is always a top priority. You'll want to choose a gateway that offers robust security features to protect your customers' information.

Supported currencies: If you plan on selling internationally, you'll need to make sure that your chosen gateway supports the currencies you want to accept.

Payment methods: Most Woocommerce stores accept credit and debit cards, but some also accept other payment methods such as PayPal or Apple Pay. Make sure that your chosen gateway supports the payment methods you want to offer.
Those are just a few of the things you should keep in mind when choosing a Woocommerce payment gateway. The best way to find the perfect gateway for your store is to experiment with different options and see what works best for you.
WooCommerce Tax – How is online store tax calculated with WooCommerce?
Online shoppers are accustomed to seeing taxes automatically calculated at checkout. However, for store owners, calculating taxes can be a complex and time-consuming task. Fortunately, WooCommerce makes it easy to calculate taxes for orders placed through your online store.
When an order is placed on a WooCommerce-powered site, WooCommerce will automatically calculate the appropriate tax based on the customer's shipping address and the store's tax settings. By default, WooCommerce will use the customer's shipping address to determine the correct tax rate.
However, you also have the option to use the customer's billing address or the store's base address. Once the correct tax rate has been determined, WooCommerce will calculate the tax due based on the order total and apply any applicable discounts or coupons.
To ensure that your taxes are being calculated correctly, you'll need to first configure your tax settings in WooCommerce. You can choose to display taxes before or after checkout, as well as whether to show inclusive or exclusive prices. You'll also need to select the countries and states where you want taxes to be applied.
If you're using a third-party service like TaxJar or Avalara, you'll need to enter your API key in the corresponding field. Once your tax settings have been configured, WooCommerce will take care of the rest!
WooCommerce Marketing – How good is WooCommerce in terms of SEO?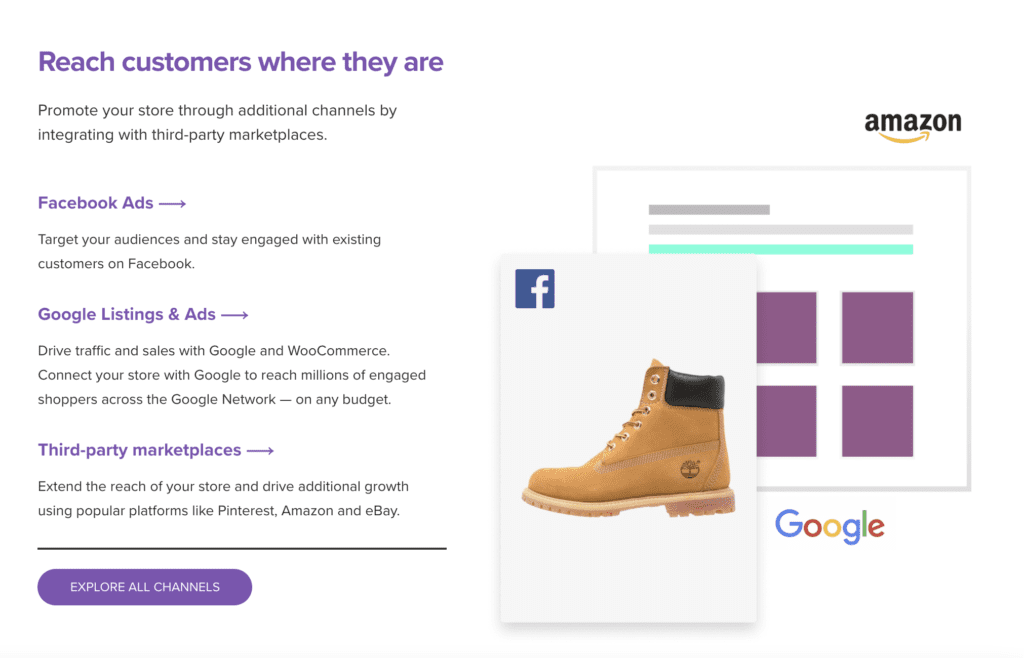 In terms of Marketing, a WooCommerce store will provide a variety of different ways for you to rank your website. Here we will divide the marketing section into 3 categories: WooCommerce SEO, Discount and Coupons, and Email Marketing.
WooCommerce SEO
Search Engine Optimization (SEO) is an important part of your eCommerce business. It reflects how your website will be visible on the search engine. The higher your SEO practice, the better the rankings. While we're not here to talk about how you can improve your SEO, we can certainly highlight how WooCommerce can help in your store ranking journey.
WooCommerce is an SEO-friendly plugin, meaning that the platform is built to offer maximum conversion for both your product and category pages. Your responsibility, as a marketer is to write compelling product descriptions and use attractive images to convert most customers.
WooCommerce also features a standalone SEO plugin that you can install on your website and take your optimization to the next level.
Discount and Coupons
Another great way to grab your customer's attention is to include seasonal discounts and coupons. WooCommerce allows you to offer a variety of different discount codes for your customer. Mainly there are three different types you can choose from; fixed product discount, percentage discount, and fixed cart discount.
There are also categories for discount schedules, restrictions for certain parameters, and promotions for certain products.
Email Marketing
Emails are a great way to retain a customer and increase the loyalty of your brand. WooCommerce allows you tons of different ways to collect, manage, and retarget visitors' email addresses. When it comes to styling, the main interface is built around standard HTML, so it's easier to include this in your email newsletter.
At the same time, WooCommerce has a separate Newsletter Subscription, which offers a variety of different templates that you can include in your next email campaigns.
Security – Is it a reliable eCommerce platform?
WooCommerce is very good at handling the security of your website. But the main highlight is, it's an open-source platform, meaning all the data is already out there. Anyone can see the code, find vulnerabilities, and affect the performance of individuals' websites.
But these are rare cases, as the company itself says that only 4% of the users got hit by some sort of a cyberattack. Generally speaking, the security is good. And in case, you find a problem in your website, it doesn't mean that WooCommerce is the perpetrator.
There are other things that reflect your website security as well such as hosting, theme, and plugins you use – so we can't always point out WooCommerce for any attack.
Support – Does WooCommerce offer Chat support?
The support is not the best side of WooCommerce. As it is an open-source platform, you can't expect a live call or a 24/7 chat system to keep things running.
But it doesn't mean that the support is all bad, the WooCommerce community is one of the largest in the world. There are plenty of forums, groups, and tutorials that you can get help from. Simply ask your queries in one of the discussion forums and someone will probably reach out to you.
As for the WooCommerce own services, you'll get a ticket and email support system. The wait time is 1-2 working days.

WooCommerce Review – Pros and Cons
After reviewing some of the prominent features of the platform, here's a quick overview of all the pros and cons.
Pros
Unlimited Customization, your imagination is the limit
Ideal for SEO optimization and Marketing
Interactive Community, tons of great forums
Tons of Plugins and Extensions
Custom design themes are available
Sales reporting and inventory management
Processing eCommerce orders
Cons
No phone or chat support
Only WordPress centric
Conclusion
With WooCommerce, you have so many possibilities of exploring the world of eCommerce. As soon as you get past the initial stage of development and Configurability, WooCommerce is a powerful plugin to set up, use, and grow your online business.
It's free, it's reliable, and comes with a wide range of extensions – all available to refine, customize, and monitor your store performance.
Feel free to contact us with any questions or project inquires.